Sheriff Badge & Deputy Badge Coloring Page
Wild West Sheriff Badge Coloring Page - You get your choice of western lawmen badges with this printable sheet. Page has both Sheriff badge and deputy badge on a single printable coloring page.
Wild West lawman badges coloring sheet, includes a sheriff badge and a deputy badge picture to color on the same badge coloring page.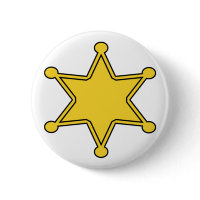 Custom Sheriff Badge - Design Your Own Button