Cut Out Crafts, Die Cuts, Stencil Patterns
Find your favorite cut out crafts, stencils and die cuts here, from masks and party hats to decorative patterns, gift boxes, paper crafts and party decorations.
You can cut out any of these original designs and paper crafts using a craft knife or scissors, or you can adapt my design patterns for use with a Cameo Silhouette or other electronic craft cutting machine. Some of my diecut designs include a free, personal-use .Studio shape file to use with Silhouette craft cutters.
This is the newest section on this web site.
I've been designing paper crafts made from coloring pages and line art for years, so I decided to organize my favorite cutting pages, cut out patterns, stencils and templates into one section. You can cut these out by hand, or use a craft cutting machine.
Printables & Paper Crafts
Please note: all content on this site is for noncommercial use only and may not be posted or published on other sites for download or sale.
Please link to this site to share our freebies with your friends and family. You may post a small picture using Pinterest or Twitter or add a text link back to any page on this site from your favorite social sites or your blog/website.
Follow my posts and pins on Twitter or Pinterest, follow Paper Crafts on Facebook, or subscribe to my blog to get the latest news on all my craft freebies and site updates.
Featured Cut Out Crafts Patterns

Crafty Printables for Every Season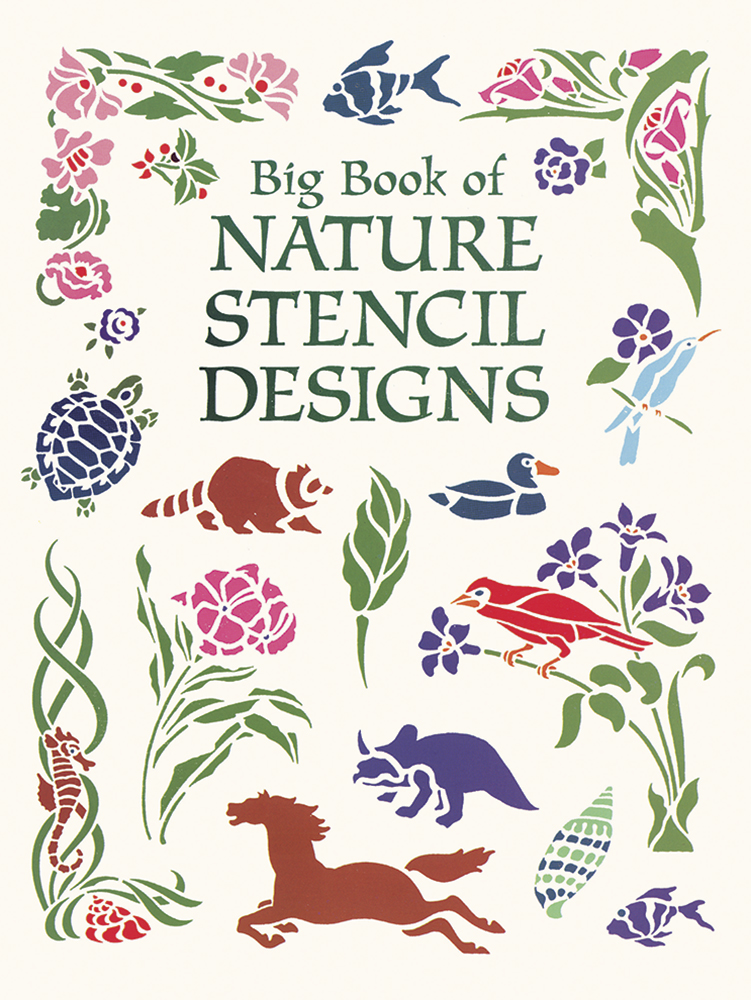 Big Book of Nature Stencil Designs
Coloring Crafts Fun - Make Your Own Die Cut Crafts with Line Art Pictures
Coloring pages aren't just for coloring! They're also great for other crafts including paper piecing, applique, embroidery, die cut crafts, screen printing, block printing, and card making - some folks use coloring pages to design body art, cake decorations, wallies or vehicle stickers. Of course many people simply love our coloring pages for the sheer pleasure of coloring them in - especially our adult coloring pages - because they're relaxing and great for reducing stress.
But did you know this? Most of the designs in our collection of original line art pictures can be used for making your own crafts, clip art and die cut patterns.
This site contains hundreds of printable Coloring Sheets. They're all created from my original digital artwork.
Browse our collections right here:
You can post a thumbnail image from this on your blog or web site and link it back to a page on this site - that's cool. You are welcome to use our clip art and printables for any personal non-commercial project but you may NOT offer them for sale in any form, and you cannot post them on any other site for download. Add favorites to Facebook groups and Pinterest boards to share with friends and fellow crafters.
How to Design Your Own Die Cuts
I love making fabric, cardstock, paper and vinyl die cuts from my own designs almost as much as I enjoy sharing my outlines as cutting files, craft templates and coloring pages.
To design your own die cut crafts from line art or coloring pages, simply choose a category from the many coloring page collections on this site, select a picture, then adapt the drawing to suit your die cut craft project.
You can add color to your artwork by using any basic graphics program, working with colored pencils or markers, or cut and paste sections from different scrapbook papers and card stock sheets.
For example, our shamrock lollypop card could be cut out of patterned or colorful cardstock or paper to make a flower. Instead of using a lolly pop for the center, tie a pompom to a string or glue it to a straw to make the stem.