Mother's Day Greeting Cards
Mother's Day Cards for Mom, Mum or Grandmother
Free Mother's Day greeting cards to print, cut and fold for Mom or Grandmother! Beautiful print and fold greeting cards designed especially for Mother's Day.
Give your Mom, Mum, Grandmother or Step Mom a lovely card - choose from 2 designs or visit our special links for custom Mother's Day card offers.
Diamond Heart Design Mother's Day Card
A heart shaped diamond decorates this printable Mother's Day card for Mom or Grandmother.
Each Adobe PDF printable sheet prints two of the same design, Diamond Heart Mother's Day Cards.
Mother's Day
Diamond Heart Cards
Mothers Day Card Crafts
Print card sheets on photo paper or card stock then trim along the guide lines. Using the cut out card as a guide, cut a slightly smaller liner sheet from vellum or pastel paper.
Fold the liner sheet in half to match the card, then tack glue the liner to the inside of the card along the fold lines.
Write your greeting on the liner sheet pages. You can add stickers, dried pressed flowers or glitter to embellish your Mother's Day hand made card.
Flower Garden Mother's Day Card
Pink and purple asters in a row frame a jumbo purple flower with Happy Mother's Day greetings.
Each printable sheet prints 2 greeting cards, 1 with green lettering, 1 with purple lettering:
Mother's Day Flower
Garden Cards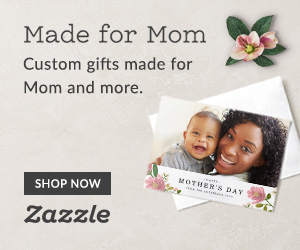 Gift Ideas for Mother's Day
Here's a small sample of interesting gift ideas for Mother's Day available from our favorite online store, Zazzle.