Adult Valentine Party Games
Woo hoo, here's the collection you've been looking for: Valentine party games for the grown ups, with fun for groups and for couples.
Some games to print, others with game boards and accessories. All priced right for affordable grownup Valentine entertainment.
You're Never too old for games. We've got a huge collection of printable adult party games showcased here for you to buy. No special software or downloads! Games come to you in email as full size full color PDFs with instructions and no limits on printouts.
Buy one, two or a whole collection of fun, sexy romantic party games for adults to play for Valentine's Day, anniversary, or other romantic occasions. Shop for other games here:
Simply choose your favorites to view full game details for each one or the full collection - shop at Print Games Now. Order and start playing in minutes-all you need is a printer and email access.
Popular sample adult party games shown on this page are just a few of the hundreds published for instant purchase and lifetime printouts by Print Games Now.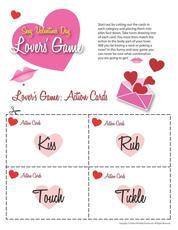 Valentine's Day: Sexy Card Game
Adult Valentine Party Fun
Grown up entertainment for groups and for couples. Click any link for details and pricing - most printable games less than $7.00 each, or buy the set and save big.
All Adult Games for Lovers + FREE GAMES!
Frisky Fun Adult Party Games
Ready to play party games - just add friends and laughter!
When it's just you and your close friends celebrating Valentine's Day or anti-Valentine's Day, here are some hilarious games to play at a house party, up at the cabin, or on the beach.
Even More Frisky Fun
These games aren't printable but they are for adults only ... lots of laughs for your private party or rowdy bar bash. Great for Galentine or Anti-Valentine bashes!